CALGON CARBON CELEBRATES PLANT EXPANSION IN MISSISSIPPI

• Increases virgin activated carbon annual production capacity by 55 MM pounds
• World's largest manufacturer of activated carbon and reactivation now produces more than 200
MM pounds of virgin activated carbon annually
• Activated carbon will help tackle PFAS forever chemicals in drinking water and wastewater
• Expansion brings 38 new jobs to Pearlington, Mississippi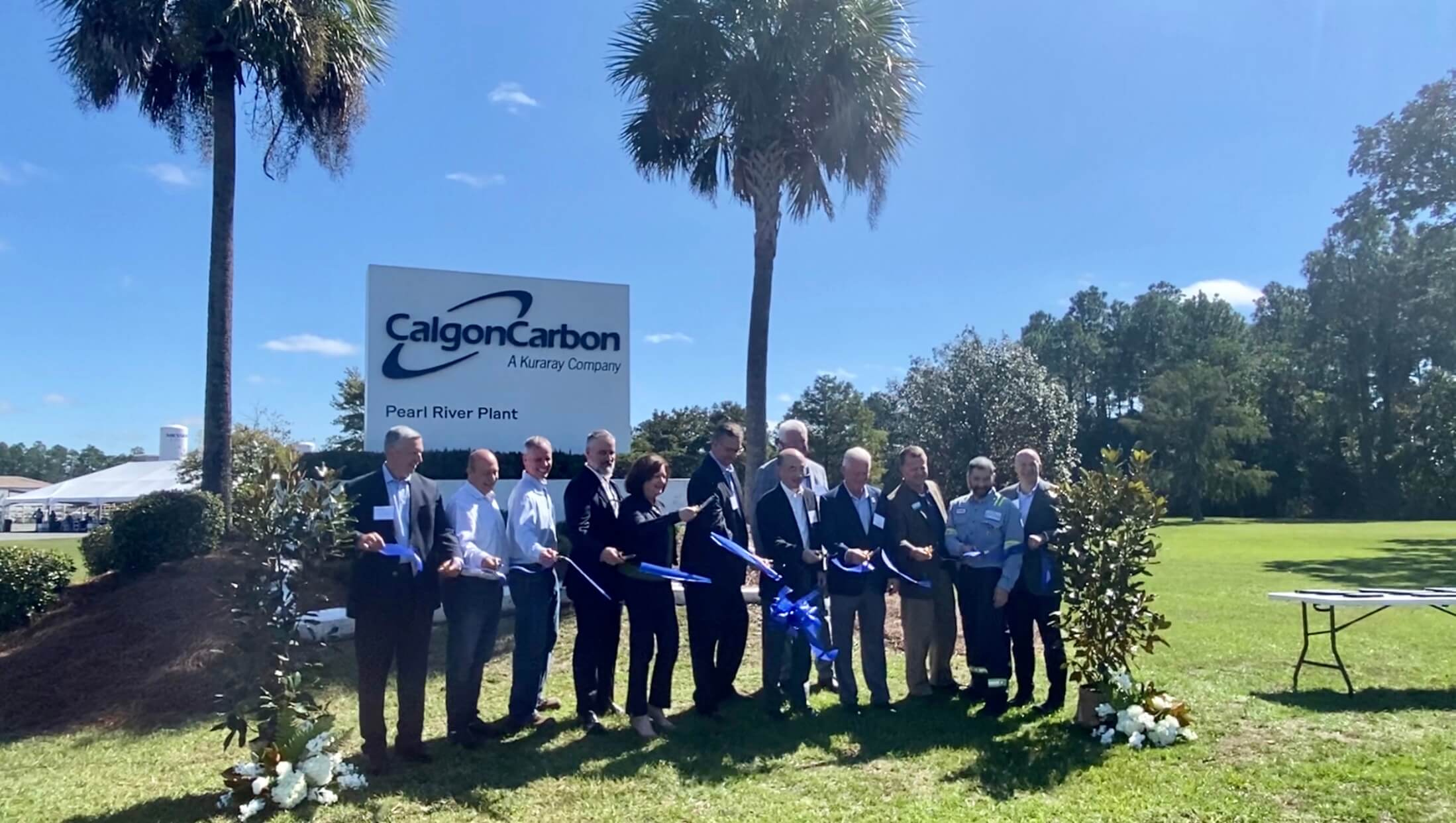 Bay St. Louis, MS, October 13, 2023: Calgon Carbon Corporation ("Calgon Carbon"), a wholly owned subsidiary of Kuraray Co., Ltd. (TYO: 3405) ("Kuraray"), today announced that it has completed its capacity expansion at its Pearlington, Mississippi site. This expansion includes the addition of a second virgin activated carbon production line, resulting in a significant increase in production capacity. With this expansion, Calgon Carbon, known as the world's largest manufacturer of activated carbon and reactivation services, will now produce more than 200 million pounds of virgin activated carbon per year.

The primary purpose of this expanded production capacity is to offer more activated carbon to customers around the world. Some of whom will use it to combat the presence of PFAS "forever chemicals" in drinking water and wastewater. PFAS, or per- and polyfluoroalkyl substances, are persistent pollutants that pose significant health risks. Calgon Carbon's activated carbon plays a vital role in removing these harmful substances, ensuring cleaner drinking water and safer wastewater management. Not only can PFAS be removed from the environment using granular activated carbon, but reactivation can effectively remove those same compounds from the spent carbon and safely destroy the contaminants to >99.99%.

The expansion not only strengthens Calgon Carbon's commitment to environmental remediation but also brings economic benefits to Pearlington, Mississippi. The additional 38 new jobs at the plant demonstrate the company's dedication to local job creation and economic growth.
The ribbon-cutting event on October 13 was attended by customers, employees, and members of the Mississippi Development Authority, Hancock County Port and the Harbor Commission. Kuraray Co. President and Representative Director, Hitoshi Kawahara. President Kawahara emphasized the significance of this expansion, stating, "This expansion will contribute to the improvement of the quality of life by providing products and services of high social and environmental value, including PFAS removal."

"Through this expansion we can now serve more customers around the world who will use this activated carbon in their industrial and manufacturing processes, or, to clean their drinking water and wastewater," said Steve Schott, Calgon Carbon's President and CEO. "With an unprecedented global demand for treating PFAS, this additional capacity of activated carbon couldn't have come at a better time!

Schott also touched on the local support Calgon Carbon received from Mississippi. "The support and enthusiasm from the state, port, and local economic development leaders have made an endeavor like this possible. We've been here for over 30 years and have always felt at home in Mississippi; it's a great feeling to hire more people and expand our presence here."

The Pearlington, MS plant sits on 100 acres within the Port Bienville Industrial Park and has approximately 400,000 square feet and over 80 employees.

About Calgon Carbon's Reactivation Processes
After an activated carbon's adsorptive capacity has been exhausted, it can be returned to Calgon Carbon for thermal reactivation. With high temperature reactivation followed by off-gas treatment, the adsorbed organic compounds are destroyed and reactivated carbon can be safely and cost-effectively recycled back to facilities for continued use. Our reactivation process can even handle spent carbon containing stubborn emerging contaminants such as PFAS, destroying greater than 99.99% total PFAS.

Through reactivation, the spent granular activated carbon can be recycled for reuse, virtually eliminating the costs and long-term liability associated with disposal.
A significant benefit of reactivation and recycling is that the CO2 footprint associated with reactivation is significantly lower than that associated with the production, supply and use of virgin activated carbon. With carbon reactivation facilities in the United States, Europe and Asia, Calgon Carbon makes it easy to help your company meet sustainability goals. Reactivated carbon is also an efficient, cost-effective alternative to virgin where appropriate.

About Calgon Carbon
Calgon Carbon, a wholly-owned subsidiary of Kuraray Co., Ltd. (TYO: 3405) (Kuraray), is a global leader in the manufacture and/or distribution of innovative coal-, wood- and coconut-based activated carbon products – in granular, powdered, pelletized and cloth form – to meet the most challenging purification demands of customers throughout the world. Calgon Carbon provides purification solutions for more than 700 distinct applications, including drinking water, wastewater, pollution abatement, and a variety of industrial and commercial manufacturing processes. Headquartered in Pittsburgh, Pennsylvania, Calgon Carbon employs approximately 1440 people and operates 20 manufacturing, reactivation, innovation and equipment fabrication facilities in the U.S., Asia, and in Europe, where Calgon Carbon is known as Chemviron. Calgon Carbon was acquired by Kuraray in March of 2018. With complementary products and services, the combined organization will continue to focus on providing the highest quality and most innovative activated carbon and filtration media products, equipment, and services to meet customer needs anywhere in the world. Visit http://calgoncarbon.com