The mission of the Hancock Chamber of Commerce is to promote the economic, social, and civic well-being of Hancock County with an emphasis on the promotion of industrial, tourism, retail, and agricultural business.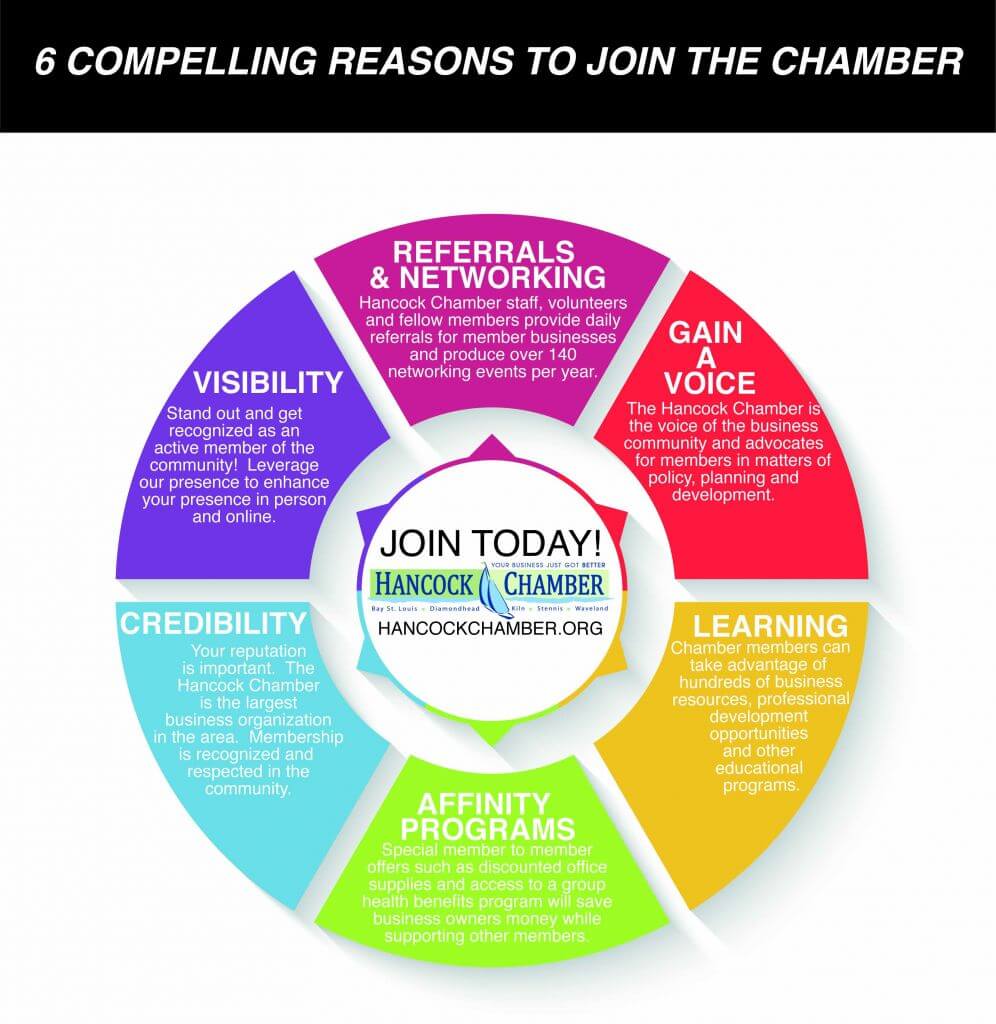 The Hancock Chamber of Commerce is the county's largest business advocacy organization. Through our 1,500 member representatives, we bring together the collective vision of our area businesses, community partners, elected officials, young professionals, youth, educators, non-profit organizations and engaged citizens to work cooperatively for the future of our community. From every corner of the county, we're working to create more successful businesses, work opportunities, and a better life for our citizens. It's a team effort. By being a member of the Chamber, you are supporting those efforts year-round to promote the economic, social, civic and well-being of Hancock County.
The Chamber's strength in this community, and with local, state and federal issues, rests on its members and their investment in the community and our organization. Get involved with the Chamber, buy local, and support our members in order to keep the Hancock County area a growing and thriving community. Through our customer development events, marketing opportunities, advocacy efforts and many other membership benefits, we believe it is the best investment you can make to attain success.
The Chamber has numerous programs benefiting our members. While some programs assist and promote business, other programs help develop local business leaders into community leaders. More than 400 Chamber members have graduated from the Chamber's Leadership Hancock County program since its inception in 1996.
Explore our website to learn about the wide range of projects we're spearheading. If you're already a member, you have a right to be proud. If you're considering membership, join today. Be part of the team that's moving, shaking, and shaping the future of Hancock County.
BOARD OF DIRECTORS & STAFF
2022 Executive Committee
President: Regan Kane, John McDonald Realty
Vice-President: Heather Ladner Smith, Butler Snow
Secretary/Executive Director: Tish H. Williams, Hancock Chamber of Commerce
Treasurer: Rea Montjoy, CPA, Select Administrative Services
Officer: Teri Wyly, La Terre Farms
Past President: Jason Chiniche, Chiniche Engineering & Surveying 2022 Board of Directors
Raymunda Barnes, Pearl River Community College
Bailey Braswell, Edward Jones
Starr Chapman, Rum Kitchen
Jeremy Compretta, Community Bank
John Ferrucci, Silver Slipper Casino & Hotel
Janice Guido, Bay Life Gifts
Marcus Ladner, Farm Bureau
Nikki Moon, Sandy Feet Retreat
Meg Payment, Mississippi Power
Mary M. Perkins, Library Foundation of Hancock County
Barry Regula, Hollywood Casino Gulf Coast
Leo Seal III, Leo Seal Family Foundation
Chanse Watson, Stennis International Airport
Angelyn T. Zeringue, Past President – SouthGroup Insurance Gulf Coast 2022 Ex-Officio and Committee Chairs
Hancock County Community Development Foundation – Wendy McDonald, Chairman
Liaison to Hancock County Port & Harbor Commission – Janice Guido
Tourism Appointment to Hancock County Tourism & Liaison to the Bay St. Louis Old Town Merchants Association – Alan Lagarde
Ambassadors – Melanie Hotard
Beautification – Katharine Ohman
Education – Raymunda Barnes
Hancock Young Professionals – Kendra MacArthur
Leadership Hancock – Janell Nolan
Relocation – Regan Kane, Janice Guido
Women's Leadership Roundtable – Mary Jane Mackey Chamber Staff
Tish Haas Williams – Executive Director
Anne Pitre – Marketing & Communications Manager
Katrina Jordan – Membership Services Manager